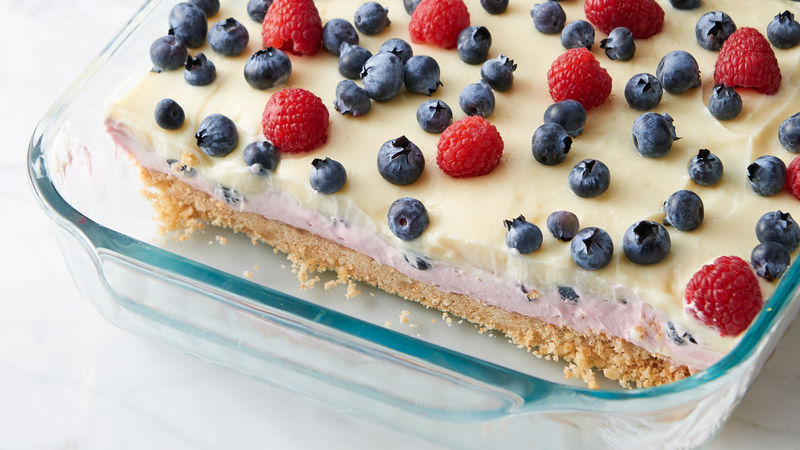 Courtsey of Betty Crocker
Ingredients
1     pouch (17.5 oz) Betty Crocker™ sugar cookie mix
       Butter and egg called for on cookie mix pouch for drop cookies
1     package (8 oz) cream cheese, softened
1      cup powdered sugar
3/4    cup seedless raspberry jam
1       container (12 oz) Cool Whip™ frozen whipped topping, thawed
3        cups fresh blueberries
2        boxes (3.3 oz each) Jell-O™ white chocolate-flavor instant pudding & pie filling mix
1      cup fresh raspberries
Steps
1     Heat oven to 375°F. Make and bake drop cookies as directed on pouch. Cool         completely, at least 30 minutes.

2     In food processor, process half of the cookies to coarse crumbs. Remove to medium bowl. Continue to process second half of cookies to coarse crumbs; add to bowl. Stir in melted butter until well blended. In ungreased 13×9-inch pan or baking dish, press cookie crumb mixture firmly in bottom. Set aside.

3     In medium bowl, beat cream cheese, powdered sugar and jam with electric mixer on medium speed until smooth, scraping down side of bowl frequently. Beat in 2 cups of the whipped topping. Spread over cookie crust. Sprinkle 2 cups of the blueberries over cream cheese mixture.

4     In another medium bowl, beat dry pudding mix and milk with whisk about 2 minutes or until thick. Drop by spoonfuls over berry layer; spread evenly over top. Drop remaining whipped topping by spoonfuls over pudding layer; spread evenly. Cover and refrigerate 4 hours.

5     When ready to serve, sprinkle raspberries and remaining 1 cup blueberries on top. Cut into 6 rows by 4 rows. Cover and refrigerate any remaining pieces.
Nutrition Facts
Serving Size: 1 Servings
Calories

320

Calories from Fat

130
Total Fat

14g
22%

Saturated Fat

9g
45%

Trans Fat

0g
 

Cholesterol

35mg
12%

Sodium

280mg
12%

Potassium

105mg
3%

Total Carbohydrate

46g
15%

Dietary Fiber

1g
5%

Sugars

25g
 

Protein

3g
 
% Daily Value*:
Vitamin A

8%

Vitamin C

4%

Calcium

6%

Iron

2%
Exchanges:
1 Starch; 0 Fruit; 2 Other Carbohydrate; 0 Skim Milk; 0 Low-Fat Milk; 0 Milk; 0 Vegetable; 0 Very Lean Meat; 0 Lean Meat; 0 High-Fat Meat; 2 1/2 Fat;
*Percent Daily Values are based on a 2,000 calorie diet.